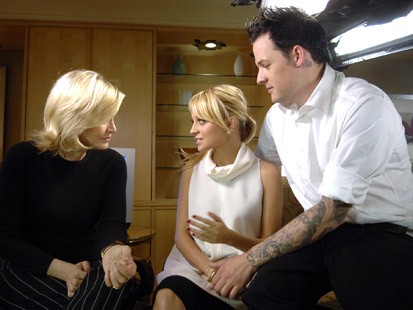 In an exclusive interview with ABC's Diane Sawyer, Nicole Richie confirmed what the world had been speculating for months.
"Yes I am. We are."
We
being her and boyfriend of less than a year, Good Charlotte's Joel Madden (
I've always wondered how they came up with the name Good Charlotte, and why?
). Nicole hasn't specified what sex the child is, or whether they even know what the sex is, all anyone really seems to know is that Nicole is almost four months along now.
Nicole has also been sentenced to four days in jail after pleading guilty in her DUI case (on December 12 of last year, Nicole was arrested on charges of driving under the inlfuence).
"I had smoked marijuana that night," she said. "Just marijuana. I had Vicodin in my system from that day, which I take for pain."
Is she still taking Vicodin? "No. I don't take anything now."
Nicole must serve her four-day term before September 28.
She seems to have reformed now that she's got a bun in the oven. Whether it's all just an act, to get everyone back on her side, who knows? Innocent until proven guilty, I suppose. In a figurative sense, of course. ;-) lol.
Catch.
*Romany*
[photo courtesy of
http://abcnews.go.com
]