I was flipping through my August issue of W magazine when I came across an ad for Donna Karan featuring none other than Aussie supermodel-in-the-making Catherine McNeil. I was so surprised (well not really, actually, considering this girl is doing quite well right now, internationally and locally) and so happy for her! She's one of my favourite Aussie models, and she's really giving us a good name lol.
She credits her rising status in the fashion world to winning the Girlfriend Model Search in 2003.
Hmm...GF model search eh? Maybe I should have gone for that thing after all? Oh well, there's always next year.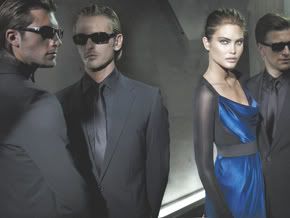 (this isn't the ad I saw, it's a different one. The one from W, which is beautiful, wasn't anywhere to be found...)
UPDATE:
Department store David Jones has just recruited four of Australia's, New York based, top models. Kristy Hinze, Nicole Trunfio, Cheyenne Tozzi and Catherine McNeil (dubbed the Fantastic Four) will accompany Megan Gale down the runway for the launch of David Jones' summer collection.
Catch.
*Romany*
[photo courtesy of
style.popcrunch.com
]